(Return to main soundtrack page.)
Less Than Zero (1987)
Record Label: Def Jam Records 314 527 360-2

Tracks:
Rocking Pneumonia and the Boogie Woogie Flu - Aerosmith
Life Fades Away - Roy Orbison
Rock and Roll All Nite - Poison
Going Back to Cali - L.L. Cool J.
You & Me (Less Than Zero) - Glen Danzig and The Power and Fury Orchestra
In-A-Gadda-Da-Vida - Slayer
Bring the Noise - Public Enemy
Are You My Woman? - The Black Flames
She's Lost You - Joan Jett & the Blackhearts
How to Love Again - Oran "Juice" Jones & Alyson Williamsn
Hazy Shade of Winter - Bangles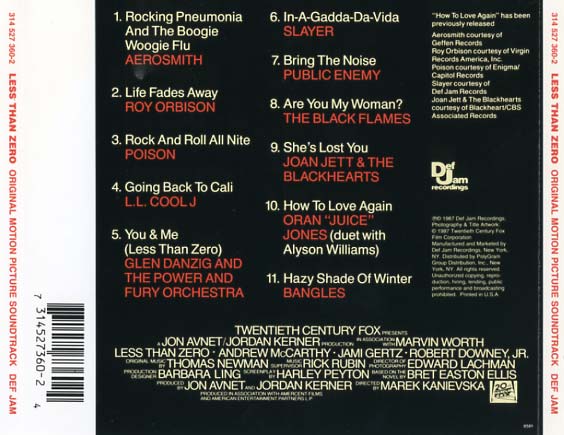 This site designed and maintained by Webmaster
© 2000-05. All rights reserved.