(Return to main soundtrack page.)
Light of Day (1987)
Record Label: CBS/Blackheart Records ZK 40654

Tracks:
Light of Day - The Barbusters
This Means War - The Barbusters
Twist It Off - The Fabulous Thunderbirds
Cleveland Rocks - Ian Hunter
Stay With Me Tonight - Dave Edmunds
It's All Coming Down Tonight - The Barbusters
Rude Mood - The Barbusters
Only Lonely - Bon Jovi
Rabbit's Got the Gun - The Hunzz
You Got No Place to Go - Michael J. Fox
Elegy (instrumental)
The Barbusters are Joan Jett, Michael J. Fox, Michael McKean, Paul Harkins, and Michael Dolan.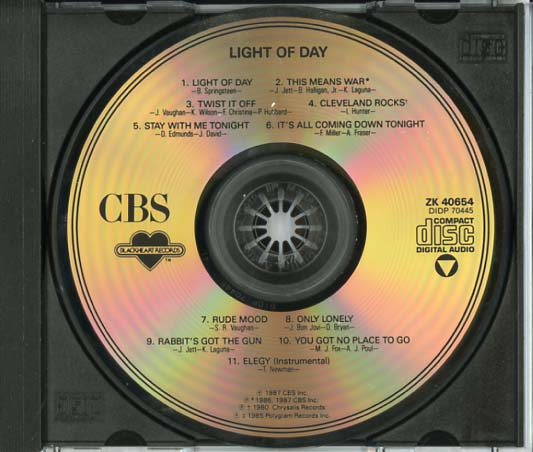 This site designed and maintained by Webmaster
© 2000-05. All rights reserved.