(Return to main soundtrack page.)
Shocker (1989)
Record Label: SBK Records K2-93233

Tracks:
Shocker - The Dudes of Wrath
Love Transfusion - Iggy Pop
No More Mr. Nice Guy - Megadeth
Sword and Stone - Bonfire
Timeless Love - Saraya
Shockdance - The Dudes of Wrath
Demon Bell (The Ballad of Horace Pinker) - Dangerous Toys
The Awakening - Voodoo X
Different Breed - Dead On
Shocker (Reprise) - The Dudes of Wrath
The Dudes of Wrath are: Paul Stanley, Desmond Child, Guy Mann-Dude, Vivian Campbell, Rudy Sarzo, Tommy Lee, Kane Roberts, Louis Merlino, and Michael Anthony.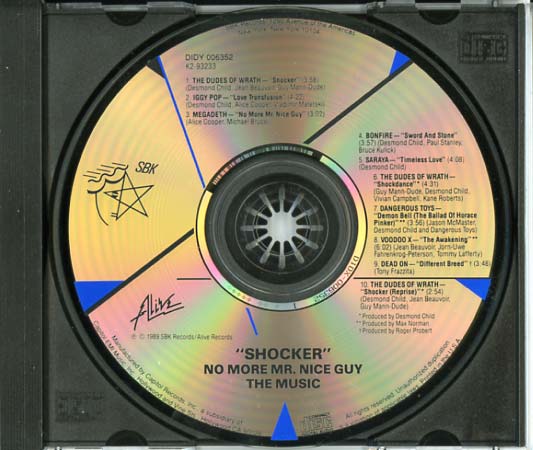 This site designed and maintained by Webmaster
© 2000-05. All rights reserved.