Return to main High-Def Music Page

(If you see no auction listings above, clicking the Search button will search eBay Stores listings for the High-Def disc in question.)
Chicago/Earth, Wind & Fire: Live at the Greek Theatre
Format: HD-DVD

Audio: Dolby Digital Plus 5.1, Dolby Digital Plus 2.0

Label: Image Entertainment

Year: 2006

Running Time: 172 minutes

Tracks:
Opening (Chicago + Earth, Wind & Fire):

Beginnings
In the Stone
Dialogue (Parts I & II)

Earth, Wind & Fire:

Magic Mind
Boogie Wonderland
System of Survival
Jupiter
Getaway
Serpentine Fire
Kalimba Story
Got to Get You Into My Life
The Way You Move
After the Love Has Gone
That's the Way of the World
Reasons
Fantasy
Let's Groove
Mighty Mighty

Chicago:

Make Me Smile Medley
If You Leave Me Now
Call On Me
Alive Again
Hard Habit to Break
Mongonucleosis
Old Days
Just You N Me
Saturday in the Park
Feelin' Stronger Every Day
I'm a Man
Hard to Say I'm Sorry / Get Away

Finale (Chicago + Earth, Wind & Fire):

September
Free
Sing a Song
Does Anybody Really Know What Time It Is?
Shining Star
25 or 6 to 4
Clicking on the picture below will display a high-resolution version of the image.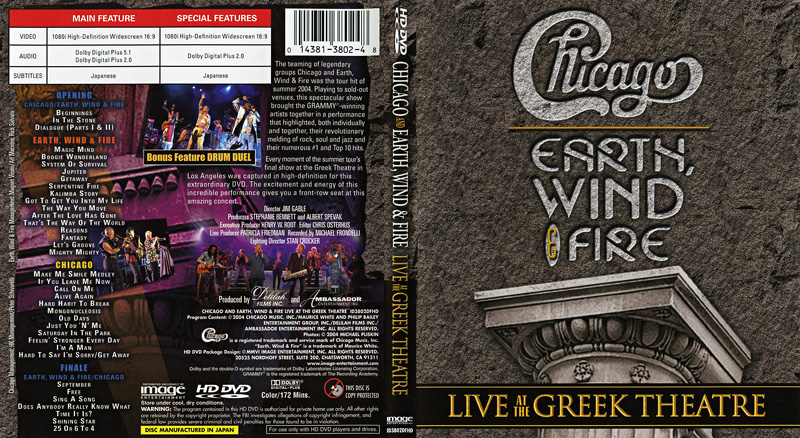 This site designed and maintained by Webmaster
© 2000-10. All rights reserved.