Return to main High-Def Music Page

(If you see no auction listings above, clicking the Search button will search eBay Stores listings for the High-Def disc in question.)
Elton John: Live at Madison Square Garden
Format: Blu-Ray

Audio: PCM Stereo, Dolby Digital 5.1

Label: Mercury Records

Year: 2007

Running Time: Not listed

Tracks:
Sixty Years On
Madman Across the Water
Where to Now St. Peter?
Hercules
Ballad of a Well Known Gun
Take Me to the Pilot
High Flying Bird
Holiday Inn
Burn Down the Mission
Better off Dead
Levon
Empty Garden (Hey Hey Johnny)
Daniel
Honky Cat
Rocket Man
I Guess That's Why They Call It the Blues
The Bridge
Roy Rogers
Mona Lisas and Mad Hatters
Sorry Seems to Be the Hardest Word
Bennie and the Jets
All the Girls Love Alice
Tiny Dancer
Something About the Way You Look Tonight
Philadelphia Freedom
Sad Songs Say (So Much)
Don't Let the Sun Go Down on Me
I'm Still Standing
The Bitch Is Back
Crocodile Rock
Saturday Night's All Right for Fighting
Funeral for a Friend/Love Lies Bleeding
Your Song
Clicking on the picture below will display a high-resolution version of the image.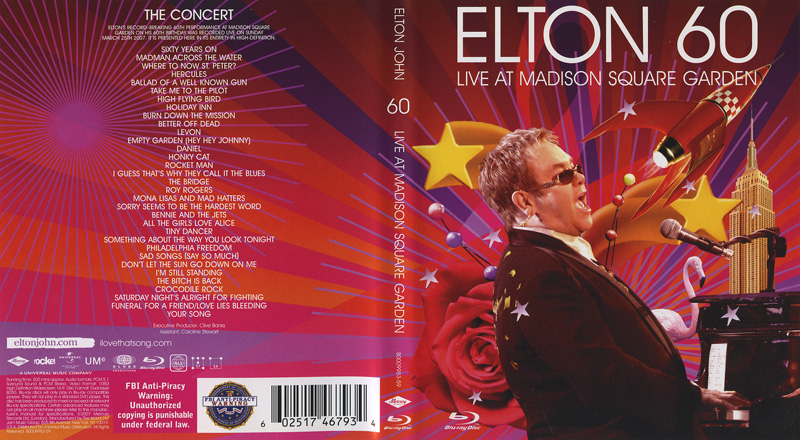 This site designed and maintained by Webmaster
© 2000-11. All rights reserved.