Return to main High-Def Music Page

(If you see no auction listings above, clicking the Search button will search eBay Stores listings for the High-Def disc in question.)
Meat Loaf: 3 bats Live
Format: Blu-Ray

Audio: DTS-HD Master Audio

Label: Universal International Music (EU)

Year: 2007

Running Time: 154 minutes

Tracks:
All Revved Up With No Place to Go
Paradise By the Dashboard Light
You Took the Words Right Out of My Mouth
Out of the Frying Pan (and Into the Fire)
Life Is a Lemon (and I Want My Money Back)
I Would Do Anything for Love (But I Won't Do That)
Objects in the Rear View Mirror May Appear Closer Than They Are
Rock & Roll Dreams Come Through
The Monster Is Loose
Bad for Good
If It Ain't Broke Break It
Blind As a Bat
Two Out of Three Ain't Bad
Bat Out of Hell
Black Betty
It's All Coming Back to Me Now
Mercury Blues
Gimme Shelter
Bonus Features:

Meat Loaf: In Search of Paradise - Documentary
Making the Monster - The Making of the Bat Out of Hell III Album
It's All Coming Back to Me Now - Video
Cry Over Me - Video
The Monster Is Loose - Animated Short Film
Clicking on the picture below will display a high-resolution version of the image.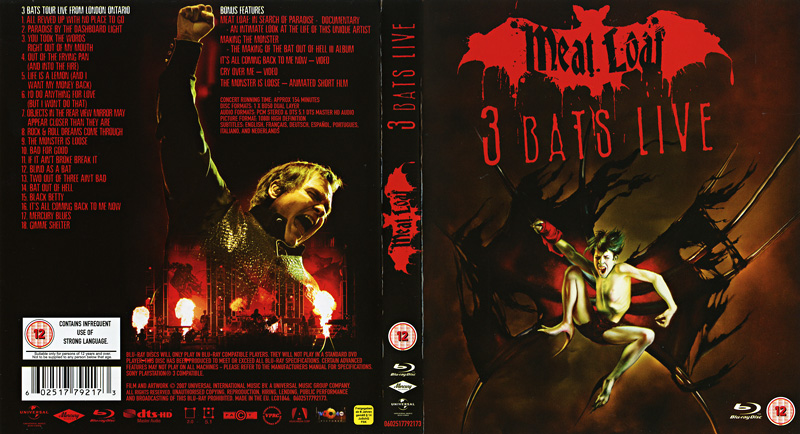 This site designed and maintained by Webmaster
© 2000-10. All rights reserved.