Return to main High-Def Music Page

(If you see no auction listings above, clicking the Search button will search eBay Stores listings for the High-Def disc in question.)
The Moody Blues: Lovely to See You
Format: HD-DVD

Audio: Dolby TrueHD 5.1, Dolby Digital Plus 5.1, 2.0

Label: Image Entertainment

Year: 2007

Running Time: 106 minutes

Tracks:
Lovely to See You
Tuesday Afternoon
Lean on Me (Tonight)
The Actor
Steppin' in a Slide Zone
The Voice
Talking Out of Turn
I Know You're Out There Somewhere
The Story in Your Eyes
Forever Autumn
Your Wildest Dreams
Isn't Life Strange
The Other Side of Life
December Snow
Higher and Higher
Are You Sitting Comfortably?
I'm Just a Singer (in a Rock & Roll Band)
Nights in White Satin
Question
Ride My See-Saw
Clicking on the picture below will display a high-resolution version of the image.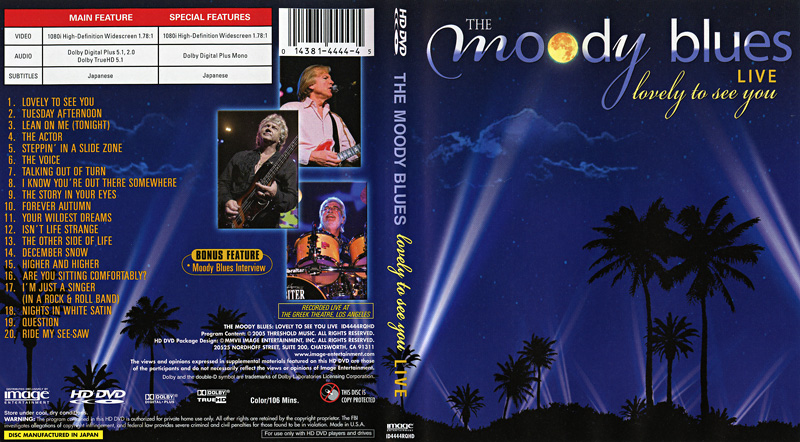 This site designed and maintained by Webmaster
© 2000-10. All rights reserved.