Return to main High-Def Music Page

(If you see no auction listings above, clicking the Search button will search eBay Stores listings for the High-Def disc in question.)
Toto: Falling in Between Live
Format: Blu-Ray

Audio: LPCM Stereo, Dolby Digital 5.1, DTS-HD Master Audio

Label: Eagle Rock Entertainment

Year: 2009

Running Time: 142 minutes

Tracks:
Falling in Between
King of the World
Pamela
Bottom of Your Soul
Caught in the Balance
Don't Chain My heart
Hold the Line
Stop Loving You
I'll Be Over You
Cruel
Greg Solo
Rosanna
I'll Supply the Love
Isolation
Gift of Faith
Kingdom of Desire / Luke Solo
Hydra / Simon Solo
Taint Your World
Gypsy Train
Africa
Drag Him to the Roof
Bonus Feature - Toto Interviewed
Clicking on the picture below will display a high-resolution version of the image.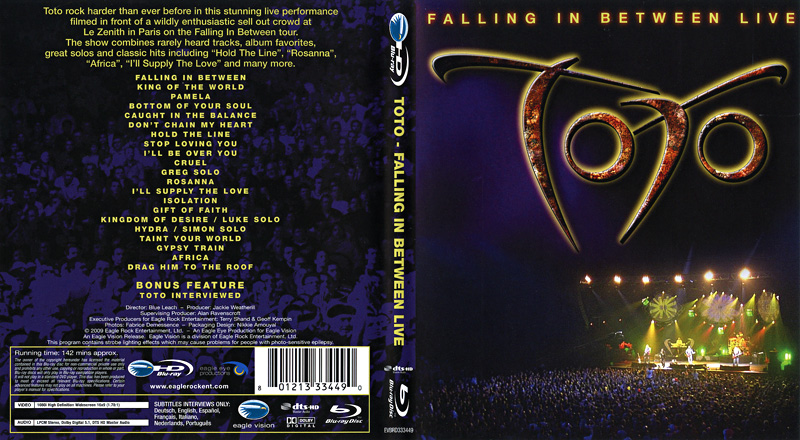 This site designed and maintained by Webmaster
© 2000-10. All rights reserved.